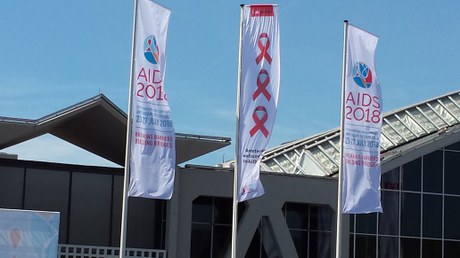 Topic of the month
September 2018 - Topic of the month: AIDS 2018 Overshadowed by Crises
UNAIDS sounded the alarm at the opening of the 2018 International AIDS Conference in Amsterdam: time is running out! "We are not on track to end the global AIDS crisis!" This message was repeatedly heard in Amsterdam where leading experts and scientists painted a sobering picture at what is, with 16,000 participants, the biggest international conference dedicated to a global health topic. Inadequate funds, a lack of political will, discrimination and human rights violations prompt the fear that, in many places, an AIDS epidemic that was believed to have been curbed is once again on the rise. Mark Dybul, until recently Executive Director of the Global Fund, warned before the conference began that the world is currently more at risk than ever of losing control over the epidemic. (International AIDS Conference 2018 in Amsterdam. Photo: MMS)
There follows a brief selection of important topics discussed at #AIDS2018.

Did UNAIDS Prematurely Announce the End of AIDS by 2030?
The numbers speak for themselves: 1.8 million people were newly infected with HIV in 2017 (UNAIDS Fact Sheet). Almost a million people died from diseases directly related to AIDS in 2017 and, contrary to worldwide trends, infection rates have again risen in around 50 countries, most particularly in Eastern Europe and Central Asia where the epidemic has run out of control.



Presentation by Peter Piot at the World Aids Conference 2018. Photo: MMS

A Funding Gap of 6 Billion US Dollars
Between 2013 and 2016, funding from the international community dropped by 20% (IAS-Lancet Report 2018: Advancing Global Health and Strengthening the HIV Response in the SDG Era) and important programmes had to be discontinued: "In 2015 – the same year that countries adopted the 2030 Agenda for Sustainable Development and its pledge to leave no one behind – donor funding for AIDS fell by 13 percent" (Fact Sheet Law and HIV). Funding is essential in the fight against AIDS; new data from the Institute for Health Metrics and Evaluation presented at the International AIDS Conference showed a shortfall of 6 billion US dollars between what is available and what is needed to reach the 2030 goals.


Peter Sands, Director of the Global Funds at World AIDS Conference in Amsterdam 2018. Photo: MMS


After several years of flat-rate funding, half of the big donor governments cut their HIV commitments in 2017 and no significant new funding pledges have been received. Trump policies and the coming into force of the Global Gag Rule mean that important programmes have been stopped overnight (Donor cuts could threaten global progress on HIV, new research warns). The withdrawal of the Global Fund from countries with a so-called upper-middle income has also been lamented. This includes countries in Western and Central Africa which have seen support from the Global Fund (GF) decreased by a third compared to the previous funding period. Likewise, a decrease in GF funding is expected for Mali and Sierra Leone. Which prompts the question: do these countries really belong to the ones with an upper-middle income?



Protest against the fact that in 2020 the next International AIDS Conference is to be held in San Francisco. Photo: MMS
#AIDS2018 – an Important Event
In spite of all the sobering news, the 22nd International AIDS Conference, with its "Breaking Barriers, Building Bridges" theme, was an important milestone on the way to a world without HIV. The meeting of scientists, medical practitioners, civil society organisations, affected people, politicians and a new generation of young and powerful activists, from over 160 nations, offered a unique opportunity to network, exchange and pool knowledge and energy. The latest findings concerning vaccine research and chances for a cure were presented and, although no breakthroughs have yet been achieved in this area, advances were registered in the research. Many welcomed the new sense of realism in the discussions and the end of the "pipe dream" of recent years that the end of AIDS was just about to be achieved. The conference demonstrated what needs to be done in the years ahead to get the epidemic under control.


Linda Bekker, one of the authors of the IAS Lancet report "Advancing Global Health and Strengthening the HIV Response to the SDG Era". Photo: MMS


Focus: #Integration
Important findings were provided by the report from the International AIDS Society-Lancet Commission entitled "Advancing Global Health and Strengthening the HIV Response in the SDG Era", presented in Amsterdam. Comprising leading international experts in public health, the commission made the case for an approach which would see HIV programmes, as well as the treatment of tuberculosis, brought out of their silos and integrated into existing health programmes.
This is also imperative to achieve universal healthcare coverage, as WHO Director-General Dr Tedros emphasised in his support of the commission's report: "We have not truly helped a gay man if we give him PrEP but leave his depression untreated..."
"Chase the virus not the peopel!" Campaign at the AIDS2018 against the increasing HIV epidemic in Eastern Europe and Central Asia. Photo: MMS
Focus: #Programmes are Insufficiently Reaching Key Populations
The available data demonstrates where the epidemic is most prevalent: in sub-Saharan Africa infection rates are dramatically increasing among young people, particularly girls and young women; outside of Africa those identified as belonging to the "key population groups" have the highest incidence of HIV infections (Session "Endemic Transition") session with Chris Beyrer). We will not be successful if we fail to focus more strongly on these groups: marginalised population groups such as sex workers, men who have sex with men, drug users and transgender people.
The interim goals of 90-90-90 by 2020 are under threat and, as is attested by the current figures of 90-81-73 (90% tested; 81% in treatment; 73% showing a suppressed viral load), we still have a long way to go (UNAIDS 2018: Miles to go). The final 10-10-10 will be crucial. These final percentages represent the people we are failing to reach. If we are to meet with success here, we must concentrate above all on the key populations and not just deploy our resources where we can achieve quick results while neglecting the core of the epidemic (AIDS2018 – Plenary Session: Breaking Barrieres and Building Bridges Between our Response towards Universal Health).


Presentation by Peter Piot at the World Aids Conference 2018. Photo: MMS
Focus: #Youth Tsunami
Teenagers and young people dominated the conference for the first time this year. Never before has the focus at an International AIDS Conference been as strongly on them as in 2018, never before have so many young peoples participated nor have there been so many sessions with and about them.
Against the backdrop of these alarming figures, this is an urgent necessity: every week around 7,000 young woman between 15-24 are infected with HIV, above all in sub-Saharan Africa. At the same time, the world has never before seen such a youthful population as today: in 2016, 43% of people in low-income countries were under 15 (data: World Bank 2017). Some also speak of a "youth tsunami" that we will be facing in the coming years.
The message was clear: if prevention and treatment programmes do not reach the upcoming generation, then advances made in the fight against AIDS in previous decades will be destroyed
For South African actor Charlize Theron, a long-term advocate for the concerns of young people, there is no excuse for failing to provide enough youth-friendly opportunities for young people to receive comprehensive education in sexual and reproductive health and rights (SRHR) and HIV.


Charlize Theron moderated the session #PasstheMIC. Photo: MMS
In some sessions, HIV-positive young people took the floor and made powerful statements (#PasstheMIC: Meaningful youth participation in the fight against HIV (AIDS2018 #PassTheMic: Meaningful youth participation in the fight against HIV).
Their demands were clear:
We do not just want to be consulted, we want to decide for ourselves on the strategies, programmes and measures that affect us: we are the generation that can end AIDS!
We demand the right to veto projects aimed at us but developed by adults.
©2014 Medicus Mundi Switzerland
HIV should no longer be dealt with in a vacuum but must instead be integrated into a comprehensive sex education. We need health education that informs us about sex and HIV without stigmatisation. We are a generation that does not fear talking about sex.

 
#PasstheMIC: Teenagers shared the challenges of living with HIV in everyday life at the World AIDS Conference in Amsterdam. Photo: MMS

 

And they criticised:

A lack of education and information programmes with scarce opportunities to receive youth-friendly counselling and family planning information.
Healthcare facilities with opening times ill-suited to young people's circumstances which, for example, are only open when teenagers are at school.
Frequent discriminatory behaviour by healthcare personnel. They are insufficiently sensitised to the fears and problems of young people and inadequately trained in how to win their trust.
Who cares for our mental problems? Many HIV-positive young people, even if they are taking their medication on a daily basis, have serious psychological problems. "I have psychological problems which are killing me every day" (speaker from India). Fear of stigma and discrimination is ubiquitous: "That's why youth are dying, because of it" (speaker from India). Psychosocial support is lacking: "Giving me medicine does not mean I am going to take it. This has been proven" (speaker from Malawi). AIDS2018 #PassTheMic: Meaningful youth participation in the fight against HIV).


Actions in the Global Village. World AIDS Conference 2018. Photo: MMS

 
Focus: #Prevention in Crisis!
The increasing focus on medical treatment has, in recent years, led to a critical underfunding of grassrootsc campaigns and effective prevention measures that help contain the disease.

Critics maintain that simple measures such as the provision of condoms are being entirely neglected. In the opinion of Anders Nordström, Ambassador for Global Health at the Swedish Ministry for Foreign Affairs, condoms have already given us a "magic bullet". The use of condoms can prevent 80% of infections (AIDS 2018: Leadership for HIV primary prevention: the Global HIV Prevention Coalition). This is particularly the case in Africa where it is estimated that around 3 million condoms per year are lacking (UNAIDS 2018: A condom crisis at the centre of the HIV prevention crisis). This condom crisis was also reflected at the conference itself where just one session was dedicated to the topic of condoms.


Actions in the Global Village. World AIDS Conference 2018. Photo: MMS


In contrast, the PrEP (pre-exposure prophylaxis) biomedical prevention measure, whose success is attested by the latest studies, experienced a real hype. PrEP, a medication taken before sex, prevents HIV infection whether taken over the long-term or just shortly before sexual activity. Even if the question of funding remains totally unclear in most countries, this is still, without doubt, an important new achievement in the fight against AIDS.

However, it was deemed necessary not only to invest in biomedical prevention measures but to ramp up the implementation of the whole range of combined prevention. Alongside medical treatment and condoms, this includes male circumcision, HIV-testing and counselling, as well as health education campaigns, to change behaviour and structural measures such as combating gender inequality and poverty. Thus, the provision of housing or the ability to buy food may be a more essential prevention measure than access to PrEP. We know exactly what works, but only a clear understanding of a local HIV-epidemic paves the way for an effective and efficient application of established and new prevention methods. Specific cooperation with affected people, the consideration of their needs and of the respective local context are crucial if we want to reach the goal of the final 10-10-10 (AIDS2018: Combination prevention: Getting it right).


Presentation in the session "Combination prevention: Getting it right". # AIDS2018. Photo: MMS

 
Focus: #Human Rights Violations and Criminalisation – Solutions to HIV Remain Political
Human rights around the world are being threatened to an unprecedented degree! This is due to the current political climate shaped by a resurgence of nationalism and populism as well as laws that lead to the discrimination of minorities. Sixty-eight countries across the globe have laws in place which discriminate against people with HIV. They legitimise courts, parliaments and law enforcement agencies such as the police in their use of the coercive force of the law to monitor the behaviour, to control and to punish those they consider to be "morally decadent". This promotes fear and stigma and stops preventative measures and HIV programmes from reaching vulnerable population groups.


Global Village: Sex Workers Opera. Foto: MMS

 

The conference strongly condemned these laws, which are not based on the latest scientific evidence and which criminalise people with HIV even decades after the introduction of effective therapy. In this regard, "Treatment as Prevention" as well as U=U (UNAIDS 2018: Undetectable= Untransmittable) for all infected people or vulnerable population groups are important achievements. The scientific discovery that a virus no longer detectable in the blood cannot cause an infection is a kind of liberation. As Bruce Richman, Executive Director of the Prevention Access Campaign, said at the conference: "U=U sets us free. It addresses one of the most durable aspects of stigma – that chronic infection signifies chronic infectiousness."

The fact that laws disregard scientific findings was also addressed by Allan Maleche, a lawyer from Kenya (KELIN, Kenya) and winner of the Elizabeth Taylor Human Rights Award at AIDS2018. Allan won the award for his ceaseless work for the rights of marginalised groups. In Kenya he has successfully fought against human rights violating laws, particularly those that criminalise HIV-positive people. The UNDP report presented at the conference, UNDP "HIV and the Law" – to which Allan substantially contributed – should effect further urgently required progress.


Human rights organizations are worried! # AIDS2018. Photo: MMS

 

It is not just laws; healthcare facilities are also partly responsible for the further spread of the virus. In a hard-hitting speech, David Malebranche, a medical practitioner and professor specialising in HIV at the Morehouse School of Medicine in Atlanta, USA, criticised the institutional discrimination that occurs in many healthcare facilities: for example, in full sight of everybody, personnel only put on gloves when examining HIV-positive patients; and HIV-positive patients have to stand in a separate queue to collect their ARV medication. For many patients, the sustained experience of such discriminations is more than they can bear and they eventually stop attending the facilities. According to Malebranche, these human rights violations receive too little attention, even though they are taking place around the world. As he asked:

"If the major drop-offs happen after people are linked to care, why don't more studies explore what is happening within medical settings? (...) If you ran a restaurant where only 40% of patrons returned after their first visit, would you commission a study to see what was wrong with your customers, or would you look within at how you are running the business, at the quality of what you are offering, the attitudes of your staff? Our social and humanitarian advances lag woefully behind our scientific ones. Medical communities are microcosms of larger society. (...) And stigma hardly just affects those already living with HIV and AIDS."

Malebranche went on in his speech to say: "We know discrimination inhibits access to prevention and testing services (UNAIDS 2017: Confronting discrimination: overcoming HIV-related stigma and discrimination in health-care settings and beyond). For sex workers. Gay men. Drug users. Transgender individuals. Sexually active teenagers. Globally, these groups are the most vulnerable to acquiring HIV and the most discriminated against in health care settings." AIDS2018 – Plenary Session: Breaking Barrieres and Building Bridges Between our Response towards Universal Health).


Actions in the Global Village. World AIDS Conference 2018. Photo: MMS

 

The Political Will Comes and Goes

Civil society organisations and the human rights programmes they support, including their advocacy work, are also suffering from an increasingly repressive political climate – a topic which was repeatedly raised at AIDS2018. With just 1% of total budgets, human rights programmes have been chronically underfunded for years. Governments and international donors refuse to provide the funding that supports this work, something NGOs have been battling for a long time. Alexandra Volgina, programme manager of the Global Network of People Living with HIV (GNP+) in the Netherlands, criticised the criteria according to which funds are distributed and the fact that advocacy work is rarely considered. Thus, the Global Fund is not prepared to fund NGO campaigns even though such work is of great significance. The money for funding is actually there, it is the political will that is lacking. Volgina lobbied for a fundamental change in the system of how funding is distributed: "The people who decide where the money goes are the politicians – but governments do not necessarily act for the benefit of those who are most vulnerable." (AIDS2018: New policies and contexts that negatively impact on funding for the response to HIV)

The human rights and advocacy work of the previous decades is an underestimated central element in the fight to end AIDS and should be recognised as an important common good!

 
Chase the virus not the people!
Campaign at the World AIDS Conference 2018. Photo: MMS

 
References
General

Key populations