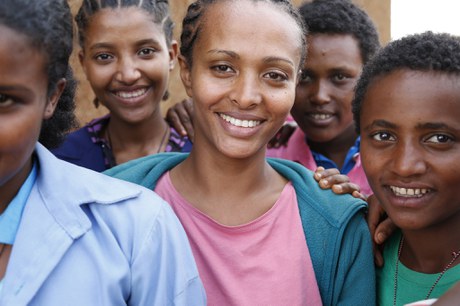 Droits de l'homme et stigmatisation
World AIDS Day 2019 - We will not End AIDS if We do not Recognise Human Rights
MMS/aidsfocus.ch - Why in 2019 do We Still not Have the HIV/AIDS Epidemic under Control? A crucial aspect is the violation of human rights, as can be observed worldwide. After decades of experience in HIV/AIDS work, we know that human rights are indivisible from the pandemic and that the HIV/AIDS epidemic cannot be ended without a consistent human rights and gender-based approach. (Photo: DFID - UK Department for International Development/flickr, CC BY 2.0)
The advances made in recent years are undisputed: the number of deaths has declined dramatically since 2010 and approximately 23 million of the estimated 37.9 million infected people are now receiving treatment. According to the 2019 UNAIDS "Global AIDS update - Communities at the Centre" report, by 2018 four out of five people infected with HIV knew their status.
These are great achievements. But, at the same time, we are not "on track" (UNAIDS, 2014: Fast-Track - Ending the AIDS epidemic by 2030) to end the epidemic. Its nature has changed and there are multiple countries and regions where progress is regressing and where the epidemic, formerly believed to have been under control, is once again spreading. This is especially the case among marginalised and stigmatised population groups, among people who are denied human rights: the disease manifests itself where there is inequality.
This includes young women and girls, especially in Africa, who are not in a position to negotiate their sexual and reproductive rights, who are denied the right to self-determination over their own bodies by society and who all too often experience sexual violence. It also includes men who have sex with men (MSM) and who are discriminated against and criminalised because of their sexual relationships. And it includes sex workers, transgender people and drug users whose rights are all too frequently violated by violence and state repression.




19.6 million girls and women living with HIV @UNAIDS, 2019

The Pressure is Increasing
In 2016, all 193 member states of the United Nations pledged to implement the sustainable development goals by 2030. This included the commitment to end the AIDS epidemic as a threat to public health. Only eleven years remain to achieve this goal.
Even less time remains to reach the 90-90-90 milestone set by UNAIDS. Today, it is already clear that we will fail to do this. By 2020, only a few countries will have achieved the goal of having 90 percent of all HIV-infected people tested, 90 percent of whom will be in antiretroviral treatment with 90 percent of the latter having the virus no longer detectable in their blood.
The 2019 UNAIDS "Global AIDS update - Communities at the Centre" report reveals a mixed picture: particularly countries in south and east Africa, some of the few regions where the 90-90-90 goal will be achieved, have been very successful in combating the epidemic; other regions, for example in eastern Europe and Asia, are experiencing worrying setbacks with up to 30 percent of new infections since 2010.
Why are Some Countries Doing Better than Others?
After over 30 years of experience in HIV/AIDS work, we know that successes are achieved precisely when policies and programmes focus on the people rather than illnesses and when communities are fully involved in designing and implementing health policies right from the start. Whatever is done must always be done from the perspective of the people affected, protecting their dignity and integrity and counteracting stigma and discrimination.
Only by doing this has it been possible for an HIV/tuberculosis project in Eshowe, South Africa ( MSF, 2019: HIV project in South Africa reaches 90-90-90 target one year ahead of deadline) to achieve results of 90-94-95 ahead of the 2020 deadline. In a region where one in four people is living with HIV, and where there is scarce access to conventional health services, consistent involvement of the entire community has been able to yield such a result. From the very beginning everyone – from local civil society and patient groups to health workers and traditional health practitioners and leaders – has been deeply involved in designing and supporting the project.
Comprehensive programmes on health and sexual education, as well as on the reduction of stigma and discrimination, have been implemented in schools and a men-only clinic has achieved better HIV tests and treatment options than traditional healthcare facilities.
In the villages, care specialists and trained non-medical personnel have implemented the entire 'treatment cascade' (home HIV tests, controlled intake of medication and subsequent testing of the virus levels in the blood).
Video MSF, Community Health Agents Programme - CHAPS
How crucial it is to go to the villages and directly address and involve the communities is also shown by the successful project undertaken by our member organisation SolidarMed in Lesotho.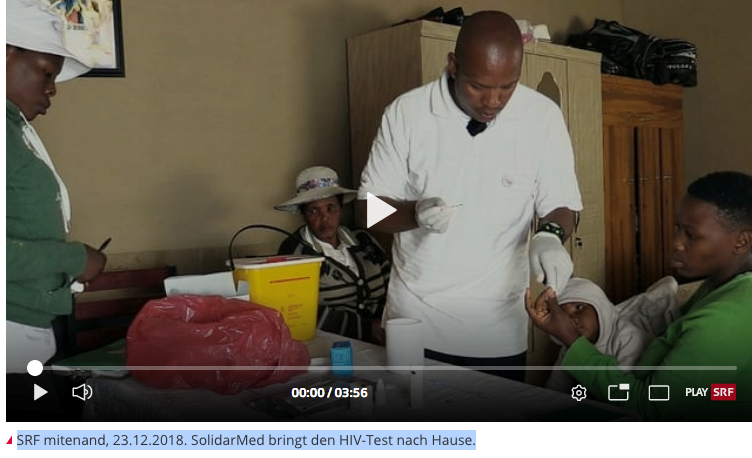 SolidarMed 2018: Zu Hause statt im Spital. In Lesotho testet SolidarMed die HIV-Versorgung zu Hause.
A special challenge is achieving the third 90 percent in the treatment cascade. This group are dependent on 'adherence' to treatment, i.e. people with AIDS must take their medication for life without interruption or cessation because this is the only way a lasting suppression of the viral load can be achieved. In the Médecins Sans Frontières project mentioned above, the result of 95 percent viral suppression could only be met by a highly individualised treatment system with many different options such as 'community pick-up points' where patients can pick up their medication directly from a pharmacy without having to wait in a queue for hours (UNAIDS 2019, Global AIDS update - Communities at the Centre, p 17).
Another remarkable service is being offered by communities at the Tangerine Clinic in Thailand. There, specially trained healthcare professionals are providing the necessary services in tandem with people from the transgender community. (Spotlight, AIDS2018: Tangerine, a Thai transgender programme that works)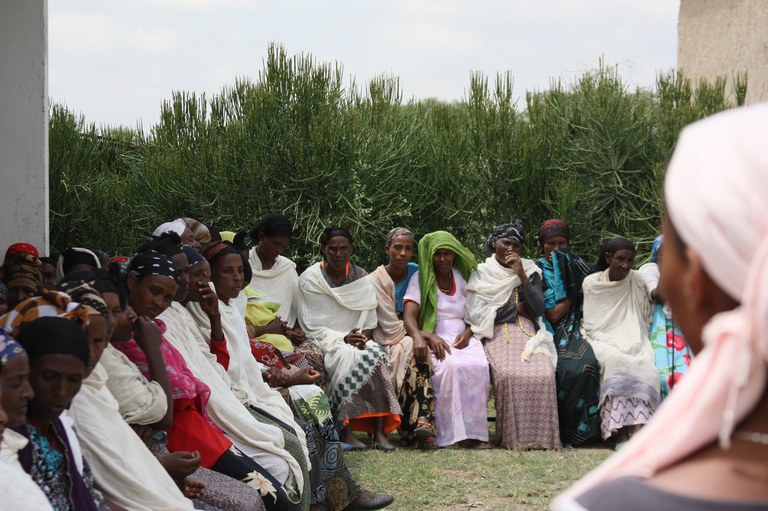 USAID Ethiopia flickr, CC BY 2.0
We Know Everything We Need to Know to End HIV/AIDS
The "Global AIDS update - Communities at the Centre" report details these and other examples that show how programmes undertaken by committed communities are crucial to ending the AIDS epidemic by 2030.
Most countries, however, are far from achieving this level of engagement. In regions where there is the least investment in communities, the least progress is being made in combating the epidemic.
The international community has pledged that at least 30 percent of HIV projects will be community-based by 2030. However, UNAIDS warns that the massive reduction in funding (by approximately 1 billion in 2018) for the fight against HIV/AIDS means this will hardly be achievable.
The report makes it clear that we already have everything we need to end the epidemic. We have the scientific evidence and we know what works. Condoms are a classic effective prevention measure but today we also have medical options available, such as voluntary medical male circumcision (VMMC) and treatment with antiretroviral drugs. People who consistently take their medication no longer pass on the virus and taking PrEP (pre-exposure prophylaxis) can reduce the risk of infection in 'high-risk' groups by 100 percent. We know that a comprehensive sexual education (MMS Bulletin 2019: Sexual Rights: Giving Young People a Voice), including a gender-transformative approach, significantly reduces the spread of the epidemic among young people. We also know that alarming figures, such as the statistic that seven out of ten young women in sub-Saharan Africa lack a comprehensive knowledge of HIV, are due to a collective failure of the international community.
It is a tragedy that many people, including those in Europe, are not adequately informed about the progress made in the treatment of HIV infections. They have unnecessary fears of contact and this stigmatises those affected and prevents them from getting tested and taking the necessary steps for treatment.
We are at a crucial point in the response to HIV/AIDS. We will not be able to end AIDS if we do not support communities more fully.
Significantly, from the very beginning it was not the politicians but the affected communities who led the fight against the epidemic. Activists combated stigma and marginalisation, holding political decision-makers to account and thus making a decisive contribution to getting more people into treatment (UNAIDS 2015, Communities deliver).
Ultimately, it is and remains a question of human rights. Human rights are flouted when a lack of political will means those affected are denied the programmes and resources that we know will successfully protect them from HIV/AIDS.
The Agenda 2030 and its credo of "Leaving no one Behind" is also an agenda for the recognition and implementation of human rights. If we lose sight of that and fail to work towards it, we will not reach its ambitious goals.
World AIDS Day 2019: Message from UNAIDS Executive Director Winnie Byanyima
Autorin:
Martina Staenke, Medicus Mundi Switzerland. Email
Referenzen: