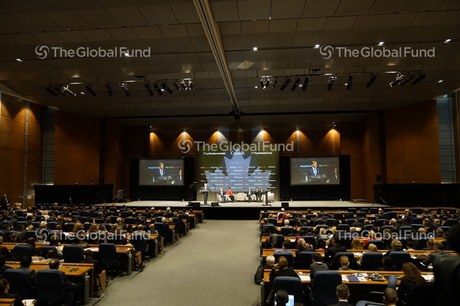 Unser Engagement
MMS/ aidsfocus.ch applauds the world leaders to invest nearly 13 Billion USD in the Global Fund to fight HIV/AIDS, Tuberculosis and Malaria for 2017 - 2019
MMS/aidsfocus.ch - World leaders, faith-based organisations, the private sector, NGOs and civil society organisations met for two days at the fifth Replenishment Conference of the Global Fund to fight AIDS, Tuberculosis and Malaria, hosted by Prime Minister Justin Trudeau in Montreal, Quebec (September 16-17). A total of US$12.9 billion was formally pledged which will ensure life-saving treatment and prevention programs for millions of people around the world through 2019.
This achievement demonstrates that the international community remains committed to accelerating progress in ending these epidemics by 2030.
The amount raised will save 8 million lives, avert 300 million infections, and help build resilient and sustainable systems for health. The Global Fund is an international financing institution that mobilizes and disburses resources to countries to support programming that prevents, treats, and cares for people living with and affected by HIV/AIDS, TB and malaria. The global partnership has saved more than 20 million lives to date and supports more than 1,000 programs in more than 100 countries where the burden of disease is greatest.
The Governments of Benin, Cote d'Ivoire, India, Kenya, Namibia, Nigeria, Senegal, South Africa, Thailand, Togo and Zimbabwe joined donor governments, and private sector donors in issuing their own ambitious pledges to the Global Fund, totalling over $50 million.
The cost of inaction is too high – we risk reversing tremendous progress against HIV/AIDS, TB and malaria. Although the Global Fund has met its replenishment objective, further mobilization, resources and leadership are needed to bring an end to these three epidemics by 2030. While the announcement is a significant contribution to the global efforts to end the epidemics, more work remains.
As civil society, we must ensure that what governments announced actually translates into funding and what is stated in the new Global Fund Strategy 2017 – 2019 translates into action!
"The impact of AIDS, tuberculosis, and malaria is far reaching, and we know that these diseases disproportionately affect the world's poorest and most vulnerable, especially women and children. Canada will continue to champion the important work being done to end these epidemics, so that our world's most vulnerable can turn their efforts to growing their communities and supporting their families." —Rt. Honourable Justin Trudeau, Prime Minister of Canada
Highlights of the pledges:
Australia increased funding to AUD $220 million, a 10% increase on its previous commitment—and in the context of major cuts to the Australian aid program.
Canada affirmed its leadership in the fight against the epidemics with a CAD 804 million pledge.
The European Union committed €470 million, a 27% increase over its previous pledge.
France pledged €1.08 billion over three years.
Germany pledged € 800 Million
India pledged US $20 million, a nearly 50% increase over its previous commitment.
Italy announced in June an increase in funding to €130 million, 30% more than its previous commitment; at the replenishment conference, Italy announced a €10 million top-up in solidarity with the low and middle income countries whose pledges were announced at the conference.
Japan committed US $800 million after hosting the replenishment's preparatory meeting in December 2015.
Kenya pledged US $5 million, more than doubling its commitment from the previous replenishment in 2013.
South Korea pledged US $4 million for 2017.
The UK pledged £1.1 billion and will work to incentivize private sector investments in the Global Fund.
The U.S. committed to deliver one-third of the total funds, up to US $4.3 billion, matching donor investments with $1 for every $2 pledged by others through September 2017. (Photo: Global Fund Webseite)
The Network Medicus Mundi Switzerland is part of the Swiss Delegation to the Global Fund board within the Australian, Swiss and Canadian constituency since 2015.
MMS shares the vision that a world free of AIDS is possible. Universal access to HIV prevention, treatment, care and support is a fundamental human right for all who need it and must be achieved.